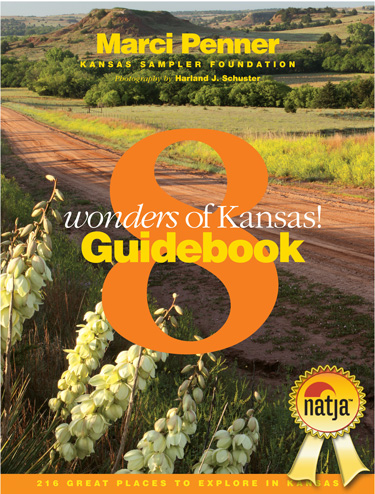 The
8 Wonders of Kansas Guidebook
is an award-winning 272-page book filled with over 800 beautiful photos of the 216 entries in the 8 Wonders of Kansas contests. It is certain to become a treasured Kansas classic whether it's used as a coffee table book or as a travel guide.

In January 2012 the book was awarded a gold in the Media category for Travel Guide by the North America Journalist Travel Association.

Photographer Harland Schuster, Morrill, went to each one of the 216 places between May and November of 2010 to take up-to-date pictures. Designer Liz (Penner) King has interspersed information about each of the places among Harland's photos to create a book that perfectly fits the celebratory nature of 2011, Kansas' sesquicentennial year.
Author Marci Penner has worked with all 216 entries to compile background information, location, contacts, Web sites and hours to make this spiral-bound book a handy tool when exploring Kansas.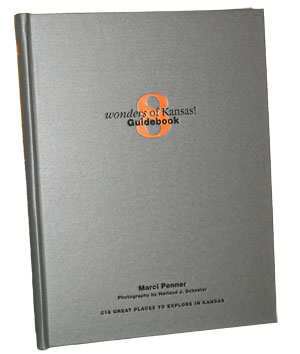 The top 8 Wonders entries in the
categories of Architecture, Art, Commerce, Cuisine, Customs, Geography, History, People, and the Overall 8 Wonders are featured in a two-page spread. The remaining finalists are recognized on a half page.
Mennonite Press, Newton, printed the book. Koerperich Bookbinders of Selden, one of the 8 Wonders of Kansas Commerce finalists, bound the limited hard-back version.
The guidebook is now on sale statewide in retail stores and gift shops at a price of $3.00, or you may order from our online store. A hardback version is available for $35. There are now limited numbers of both books left, so order soon!

BOOK SPONSORS

$1,000
Ellery & Eileen Robertson, Humboldt
Gene & Barb Merry, Burlington
John & Debbie Divine, Salina

$500
Abilene
Convention & Visitors Bureau
City of Lindsborg Department of Convention & Visitors Bureau
Clark Pharmacy/Jim and Sandi Coast, Cimarron
Go Wichita Convention & Visitors Bureau
Grand Central Hotel, Cottonwood Falls
Hutchinson
Convention & Visitors Bureau
Jim & Bonnie Miller, McPherson
Kansas
Cosmosphere and Space Center, Hutchinson
Kansas
Underground Salt Museum, Hutchinson
Lecompton Historical Society
Manhattan
Convention & Visitors Bureau
Marion
County
Economic Development
Moon Marble Company, Bonner Springs
Northwest Kansas
Travel Council
Rainbow Communications, Hiawatha
Sherman
County
Convention & Visitors Bureau, Goodland
Tri-County Telephone Association, Council Grove
WaKeeney Travel & Tourism
Wetlands and Wildlife National Byway