The Franklin County Courthouse is a finalist for the 8 Wonders of Kansas Architecture because it is the oldest surviving George P. Washburn courthouse in the state--and one of his most outstanding.
The pride of architect George P. Washburn's hometown of Ottawa, this 1893 structure was the second of 15 Kansas courthouses that Washburn designed.
Regarded as one of his most outstanding works, the courthouse is a distinctive blend of two styles: Romanesque Revival with its round arches and unique sculptural program, and Colonial Revival with its crisp red brick and white sandstone trim. This National Register of Historic Places property sits at the center of Ottawa's downtown, a statue of Justice standing over the west gable and a Charlie Norton sculpture of "Buffalo Woman" on a pedestal below. One of the towers is home to a large bell while another displays a four-sided clock.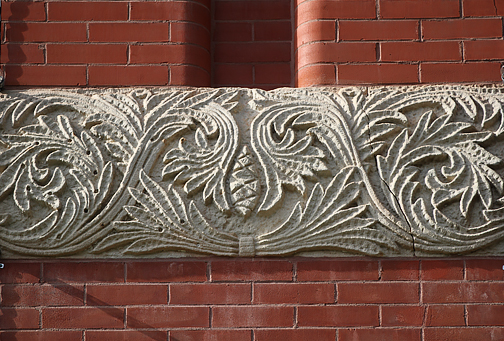 Walking inside this building is like stepping back in time. The elaborate oak woodwork and staircases, office furniture, and encaustic tile in the main floor hallway are all original and remain in excellent condition. The courtroom on the second floor of the courthouse is unchanged with the exception of a rear balcony added to provide fire access to the third floor. On the west half of that third floor, a suite of rooms was once the Grand Army Hall, the meeting space of the Union veterans' organization, the Grand Army of the Republic. Its original sign on glass can be seen over the doors.
Washburn utilized this courthouse as a display of his skills, and county commissioners from all around stepped off the train into George Washburn's Ottawa, from the Santa Fe passenger depot past handsome homes and churches, commercial blocks and Chautauqua buildings in Forest Park. Recent research has revealed that Washburn's firm, over two generations, produced nearly 300 public and private buildings that dignify and enrich their communities.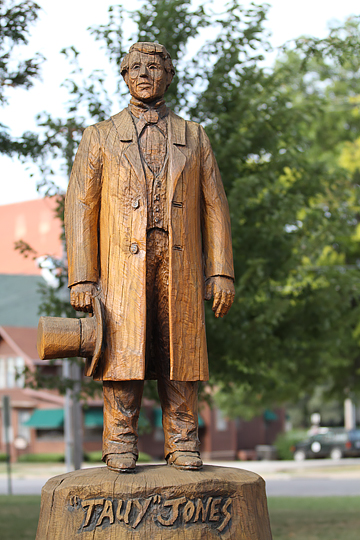 Limestone for the basement walls was shipped from the Rettiger Quarry, Strong City; pressed red-faced brick was manufactured by Ottawa Brick and Tile; and sandstone was shipped from Warrensburg, Mo. The interior trim was hand oil-rubbed natural oak and door and window trimmings of solid bronze.
One can imagine the marvelous scene on the courthouse square during 1892-93 as workmen plied their trade and the building began to take shape--before a gallery of sidewalk superintendents! The courthouse (exterior proportions of 73 feet by 112 feet), full basement, three floors and intricate roof design was completed in less than two years--a marvel even by today's standards.
Contact: history@old.depot.museum

Open: Monday-Friday 8 a.m.-4:30 p.m. No admission charge.