The Buffalo Bill Bronze Sculpture is one of the 8 Wonders of Kansas Art because it is a monumental work of art meticulously created by Kansan sculptor Charlie Norton and his wife Pat and is the largest of its kind anywhere in the world.
The sculpture memorializes a legendary event that took place in Logan County in 1868 whereby William F. Cody won the title of "Buffalo Bill." This event therefore made Logan County, Kansas "The Birthplace of the Legend, Buffalo Bill."
ABOUT THE SCULPTURE
The magnificently executed Buffalo Bill Bronze Sculpture on U.S. 83 at Oakley consists of Buffalo Bill Cody on his favorite buffalo running horse, Brigham with his buffalo rifle, Lucretia taking aim at a buffalo as they both race across the prairie. This monumental bronze is greater than two times life-sized and weighs over 9,000 pounds.
The Monumental Buffalo Bill Sculpture is historically correct in every detail from the Springfield Rifle that he used, to the saddle that he is riding and the handgun at his side. Buffalo Bill's horse Brigham was a mustang that originated in the desert of Utah. For authenticity Charlie used a mustang from a reservation in nearby Arizona for his model.
The buffalo in the sculpture is a large bull without peer. It is accurate in every detail as Charlie is intimately familiar with the buffalo as he has made them a lifetime study. Charlie has also helped harvest and butcher innumerable buffalo as Buffalo Bill and his crew did out on the plains.
We hope that this monument and what it stands for will help to encourage future generations to think and dream big and follow through with those dreams.


In brief, when the idea was conceived to create this masterpiece as a memorial to one of America's most famous persons, Buffalo Bill Cody, a non-profit corporation, the Wild West Historical Foundation, Inc. was formed in 1999 with a 7-member board. All of their work combined with the tenacity and passion of Charlie and Pat Norton led to the May 22, 2004 dedication of the magnificent Buffalo Bill Sculpture. The Buffalo Bill log cabin is open during the tourist season and contains information and a gift shop. A grant awarded by the Kansas Humanities Council has funded a large outdoor storyboard sharing the buffalo contest and other regional history.
STORY OF THE BUFFALO BILL CONTEST
Buffalo Bill Cody should not be confused with the hide hunters of the period that killed millions of buffalo for their hides alone. Buffalo Bill Cody hunted buffalo for the same purpose that the native Americans did--food. Food that was needed to feed the track crews that were laying the track for the Kansas Pacific Railroad across Kansas which was later to become the Union Pacific Railroad.
Buffalo Bill was paid $500 per month to provide a specific amount of buffalo meat for the track crews each day. Common wages at the time were more typically around $30.00 per month.
He began his job of hunting buffalo for the railroad in the fall of 1867. By early 1868 he was becoming quite well known for his abilities as a buffalo hunter and his friends began referring to him as "Buffalo Bill". Well, Fort Wallace, further west, had their own "Bill" hunting buffalo for them and felt that if anyone deserved the title of Buffalo Bill it was their hunter Bill Comstock.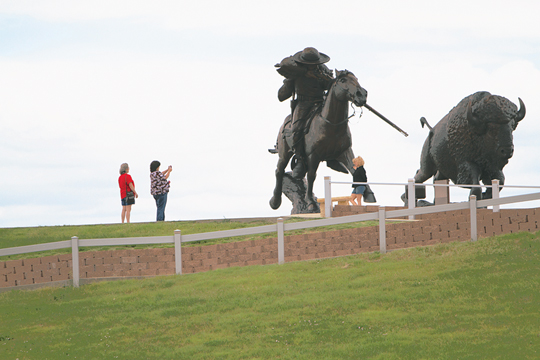 The only logical thing to do was to have a buffalo hunting contest to see who would forever be known as THE Buffalo Bill. The contest was designed to determine who could bring down the most buffalo in a single day. A wager was set and the contest was held and, at the end of the day, Bill Cody had 69 buffalo and Bill Comstock had 46. From that day forward Bill Cody has been THE Buffalo Bill.

According to Buffalo Bill's autobiography that very hunt took place 20 miles east of Sheridan (a ghost town in Logan County) in Kansas. That would put it approximately 10 miles west of the Buffalo Bill Monument, making Logan County, Kansas truly the Birthplace of the Legend, "Buffalo Bill".
Photo by Harland Schuster for KSF.

Edited story source: Courtesy of the Wild West Historical Foundation, Inc.
Wild West Historical Foundation contact: 785.671.1000
Charlie Norton contact: bronze@pld.com; 620.375.2582 charlienortonbronze.com
Hours: Always open, it's outside. No admission fee.