Open every day except Wednesday
Lunch - 10 a.m. - 2:30 p.m.
Dinner - 4:30 - 8:30 p.m.
Sunday - 10 a.m. - 3 p.m.


Pho Hoa is a finalist for the 8 Wonders of Kansas Cuisine because it is the most renowned Vietnamese restaurant in the state and uses fresh ingredients from the local Asian market.
Walking into
Pho
Hoa
(pronounced "Foe Wah") Vietnamese Restaurant in Garden City is to engage nearly all the senses. The smell of freshly grilled meat and stir fried vegetables hang in the air mingled with a bit of incense lingering from the Buddha worship area next to the register where the owner, Khanh Nguyen, (pronounced Con When) can generally be found, happily waiting to welcome his many customers. Behind him the giant aquarium filled with large Koi is popular with children and adorning the walls are huge enlarged images of the Vietnamese coast.
Scattered around the tables are customers from all walks of life and ethnic backgrounds. Most of them have been coming to Pho Hoafor years and it's a comfortable gathering place for many at lunch and dinner time. Many have their favorite dishes and don't even need a menu anymore ordering a #38, #11 or #28 and almost always accompanied by the incredible egg rolls and fish sauce.
Pho Hoaopened it's doors over 20 years ago and continues to flourish by offering a wide variety of Vietnamese dishes that are prepared with fresh ingredients. Many of them purchased from a local Asian market and the meat bought from Ehresman's Meat Locker a few blocks from the restaurant. Khanh's wife, Ha, (pronounced "Hah") does the cooking, and is a perfectionist in how each dish is prepared and presented.
Khanh works the dining room, always smiling, welcoming and efficient. For years their two children, son Dat, (rhymes with "that") and daughter Huyen, (pronounced "When") assisted their parents. Khanh and Ha were determined that their children be successful. From the very beginning the tips left by customers went into a little coffee can that still sits by the register. The money was for the "college fund" to help pay for their children's education. After Huyen's graduation from KU with a pharmacy degree, Khanh and Ha invited dozens of their regular customers to a special meal at Pho Hoa in honor of their daughter's achievement as a way to thank the community for supporting their dreams.
After attending college, Dat returned to help his parents at the restaurant. Huyen now works at St. Catherine Hospital in Garden City.
In August 1999, Khanh, Ha and Dat passed their United States Citizenship tests and were sworn in as American citizens.
Following is a wonderful story of the Nguyen family and how they found their way to America after the Vietnam War. It was written by their daughter, Huyen.
Pho Hoa's Beginnings by Huyen Nguyen

The dream was to come to America for a better life, but it was years before they could say that their "American dream" came true. After marriage in 1979, Khanh Nguyen, the owner, and his wife, Ha, fled from South Vietnam by boat in search of a new life. They ended up in Malaysia, a far cry from the life they had dreamt of. During over a year stay in a refugee camp, they welcomed a new son, Dat and soon the news that they had been granted rights to live in the United States of America.
The Nguyen's life in America started off in Houston, Texas, where Ha was a stay at home mom to now two young children, Dat and Huyen (daughter) and Khanh worked shucking oysters and later as a machininst. But after living in Houston for six years, Khanh got laid-off and had no other means of income. With the persuasion of Ha's uncle and some family friends, they decided to move to Garden City, Kansas with an opportunity to open a small restaurant. With little money at hand and the help of the friend, who was a cook, Pho Hoa was opened for business.
Pho Hoa is a name taken from a popular restaurant in Saigon, Vietnam. It, however, was not a success. The restaurant saw little traffic, and the people that moved with them, decided Garden City was not the place for them , packed up and left. The couple, still hopeful, stuck around for as long as they could. They hired someone to cook and Ha learned the basics from him, but the restaurant was still unknown in the community. Defeated, the couple decided it was time to move back to Houston. During their last days in Garden City, they dined at My Viet another Vietnamese restaurant in town who was also closing its doors. As fate had it, Khanh was convinced that it was a sign that he needed to stay and give the restaurant business one last try.
It was at that location on the outskirts of town that Pho Hoa saw a new life. They served mostly Asians until one day, Donna Skinner walked through those doors. Khanh credits her for introducing the city to this new "unique" cuisine.(Donna Skinner was employed at Garden City Community College at the time and very involved in helping make welcome the new Asian immigrants. She also started the Multi-Cultural Conference hosted by the college for many years as a way to help bridge the understanding of the new cultures coming to the Midwest.) They started to see an influx of customers, some regulars, some new and they even made it into the Hutchinson Newspaper. The family and restaurant was finally accepted as Garden City's own, a part of a growing city. Though it was hard to learn both the restaurant business and a new language, Khanh did just that.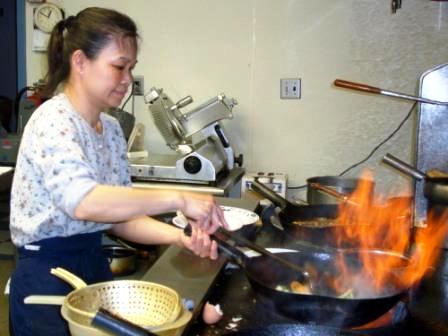 Ha Nguyen preparing a meal at Pho Hoa.

Pho Hoa remains a family owned business, managed by Khanh and Ha as the cook. Both Dat and Huyen grew up in the restaurant business, working weekends and after school since the day the doors opened in 1987. By 1996, Khanh moved the restaurant to its current location on Fulton Street where it serves people from all over the state and country. Kids who grew up on Ha's cooking usually come back from college craving their usual. People that move, will visit to have the one meal they remember being so fond of. People will visit their families on holidays and must "visit" Pho Hoa before leaving town just because they haven't found a good alternative in their own town. Either way, Khanh is always welcoming.
Popular items:
#43 Cha Gio. Egg rolls, freshly made, you can't just have one.
#5 Pho. An authentic meal, savory, made from scratch beef soup with noodles and varying types of meat. A typical choice for those cold Kansas days.
# 35 Com Suon. A simple dish with pork chops on top of white rice and served with fish sauce.
# 36 Com Chien Thap Cam. This is not your typical fried rice.
#42 Bun Thit Nuong + Cha Gio. Grilled pork with chopped egg rolls on a bed of noodles, lettuce, mint and served with fish sauce.
# 44 Ga Xao Thap Cam. Chicken stir-fry with a mixture of fresh vegetables served with white rice.
Coffee lovers should try Iced espresso coffee w/ condensed milk. A slow "brewing" process made on your table, so strong, but so good (and worth the wait).
- But if you ask my dad, everything is good, and he's not exaggerating.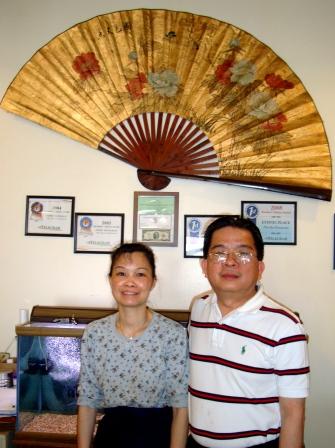 Owners of Pho Hoa, Khanh & Ha Nguyen
The following is a nomination submitted by former Garden City resident, Sarah Kessinger. Sarah was a reporter at the
Garden City Telegram
before leaving for a position at the statehouse. She recently moved home to Marysville to help with the family newspaper. Her testimonial is a perfect representation of how many feel about Pho Hoa.
"This Vietnamese restaurant is an enduring favorite to southwest Kansans and former residents of that region. In fact, it's one of those places where the egg rolls, fried rice and iced coffee still call to you years later. And when you go back for a visit, it's still just as delicious as you remembered.
The owner embodies community spirit. His restaurant helped finance his daughter's pharmacy studies at KU. So he asked that she return to Garden City and work as a pharmacist to repay the family's debt of gratitude toward Garden City for taking them in many years ago as refugees. Pho Hoa captures Kansas' immigrant spirit. Its long-time success, delicious dishes and peaceful Asian atmosphere make it unforgettable."