One of the 8 Wonders of Kansas Customs

The custom:
Bringing musicians together
Where can you see this happen regularly? The lively jam session happens every first and third Friday night at 7:30 p.m. indoors at Prairie PastTimes, 220 1/2 Broadway, or weather permitting, outdoors on the street by Symphony in Flint Hills Gallery (next to Chase County Courthouse) - Remember to bring a lawn chair!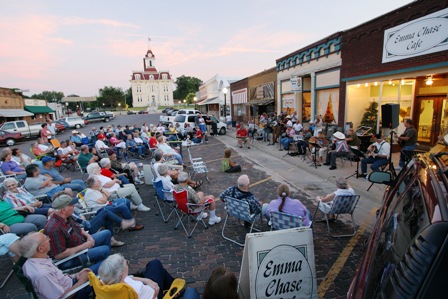 People don't have to look anything up or remember an intricate schedule -- it's really every Friday. There is no admission charge, so everyone can come to listen. There is no test of musicianship, so anyone can come and play. The super-democratic nature of this event creates an unparalleled atmosphere of inclusion and community.
Whichever Friday of the month it is determines the category: 1st Friday - Gospel, 2nd Friday - Bluegrass, 3rd Friday - Folk-Country-Bluegrass, 4th Friday - Old Time Rock-n-Roll and Vintage Country. All are acoustic instruments except 4th Fri-Rock-n-Roll. Special 5th Friday programs have included Cowboy & Western Music, Songwriters' Night, Singalong Nights, Blues Night, and Kansas Songs.general acoustic, bluegrass, gospel, old time country n rock, and on the occasional fifth Friday, contra dance and folk.
To the best of anyone's knowledge, "Music at the Emma" was Kansas' first public weekly jam session and is surely the longest-continuous jam session. Although the Emma Chase cafe has closed, the musicians have kept name "Emma Chase Friday Night Music" based on an iconic fictionalized community character.
The jam sessions are free to the public although "the jar" is occasionally passed around to raise funds for a special need, for additional sound equipment, or to help support an upcoming performance.
In September of 1999, Sue Smith and friend Charley Klamm were discussing the possibility of a music session at the cafe. Charley said, "For two bits, I'd hang a paper at the barbershop to see if anybody was interested." Sue reached into her pocket, handed Charley the quarter, gave him a sheet of paper and said, "Go ahead." So, on the first Friday night in October, 1999, twelve musicians with instruments in hand showed up at the Emma and a couple dozen listeners followed close behind.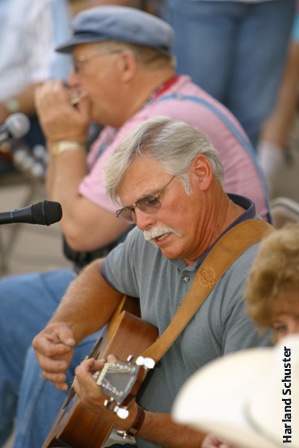 And it's been that way ever since, except that now there are more musicians and larger audiences. "The Emma" greets local musicians and musicians from all over Kansas and the United States -- and sometimes foreign countries. Participation in a night of making music with a borrowed instrument on Broadway is frequently the fondest memory carried away by a foreign visitor.
An evening count of musicians might be anywhere from four to thirty. First-time visitors are amazed at this unique phenomenon of regular people, with varying levels of musicianship, take turns leading songs while all the other musicians play along. Mostly vocal, sometimes instrumental, these songs represent a broad variety of genres.
Several regular musicians have become song-writers and frequently perform their Flint Hills tunes at the jam sessions. Some of the musicians now write music and perform their tunes in other venues.

THE ACCOMPLISHED LISTENERS
A typical audience of "Accomplished Listeners", can number from 25 inside on a cold, miserable winter night to a bricked main street full of lawn-chair listeners on a beautiful summer evening.
It is not unusual for the audience to include a bus-load of guests from a senior center or a church somewhere, campers, automobile enthusiasts, or those attending a local meeting or family reunion.
Photos courtesy Harland Schuster