THE OLDEST ROUNDABOUT
In the early 1870s, Taylor Holbrook, designed the round Fountain Park to be the hub of Blue Rapids. By 1876 a fountain was placed in the center and cottonwood trees planted around the edge of the circle. Shortly after 1888, sidewalks were laid, a bandstand built, hedges planted and a soldier's memorial and flag pole installed. There were twelve dirt streets leading to the park. Businesses built around the enclosing square.
It is the only round square in Kansas.
THE ROUND SQUARE TODAY
Today Fountain Park still holds the bronze Memorial Tablet from 1920 but has added names of soldiers from World War II, and the Korean and Vietnam conflicts. The bandstand is now the Police Department; memorial trees have been added; the fountain still bubbles and the flag still flies. A block of gypsum from the purest gypsum mine in the world graces the park while the old city jail cell adds quirky interest.
One of our oldest buildings is the public library, erected in 1875. It is the oldest library in the same building used continuously west of the Mississippi. The State Bank of Blue Rapids was erected in 1871 and the Citizens State Bank in 1904 (now an attorney's office). One of the buildings erected in 1871 on the north side of the square still remains.
THE DAILY CUSTOM
Residents round the square daily to visit the post office, the cafe (pie!), the auto parts/hardware store, the community building, the car wash, the pharmacy, the bank, the bar (great chicken livers), the glass repair shop, the attorney and the new Blue Rapids Museum.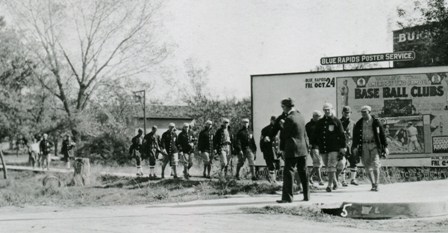 EVENTS ON THE SQUARE
When the New York Giants and the Chicago White Sox arrived on the Central Branch Railroad to play a game on their World Tour in 1913, they walked the round square.
The Marshall County Fair parade has circled the square the last 35 years. Other parades celebrated around the square are for homecoming, Bible School, Women's Emancipation, Fourth of July, Halloween, Santa's arrival, shivarees, and senior proms.
A challenging custom from the 1940s-1950s, if not before, was to take your vehicle to the top of the hill south of town, turn the engine off, and coast to the square and see how many times you can make the circle before stopping.
Today's teenagers meet on the "squircle" by backing their cars into the curb so they can sit and watch who is in town. Boys with trucks often put an old couch or chairs in the truck bed to make themselves comfortable. Saturday nights are the busiest. Winning high school sport teams are treated after the game to a celebratory bus ride circling the square going the wrong way!
YOU'RE INVITED
The public is invited to come to Blue Rapids and cruise Main, Blue Rapids style!
Questions?
Contact the Blue Rapids Historical Society at brhissoc@yahoo.com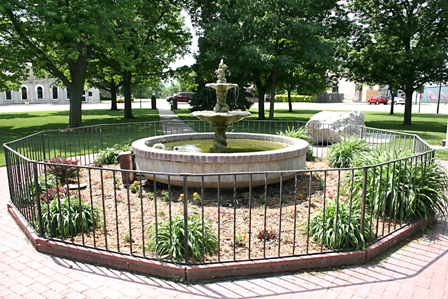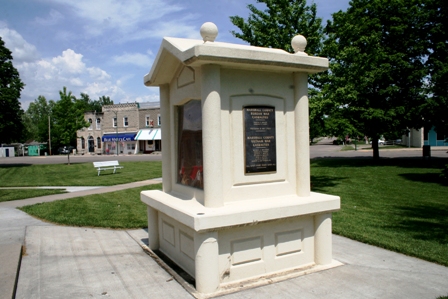 The round town square fountain and Veterans Memorial in the middle of the "squircle." Photo KSF