Custom:
Racing motorcycles
Place to learn about it:
Kansas Motorcycle Museum in Marquette.
Museum hours:

Open Monday-Saturday 10 a.m.-5 p.m.; Sunday 11 a.m.-5 p.m. Donations
.
The Kansas Motorcycle Museum is home to over 100 vintage and rare motorcycles of all various makes and models. It also has numerous motorcycle racing memorabilia, photos, posters, and much, much more.
MUSEUM HISTORY
The museum was started in 2003 as a local tribute to Marquette's own motorcycle racing legend and five-time national racing champion, "Stan the Man" Engdahl. On display are over 600 trophies Stan won and his legendary Harley Davidson custom-built racing motorcycle he rode during his motorcycle racing career which spanned six decades from the 1940's to the 1990's. While Stan unfortunately passed away on November 12, 2007, His wife, LaVona, continues to be curator for the museum.
Marquette hosts a bikers rally every May called the "Thunder on the Smoky". A Biker's Breakfast at the Valley Cafe the third Saturday of the month from April through October.

Source: ksmotorcyclemuseum.org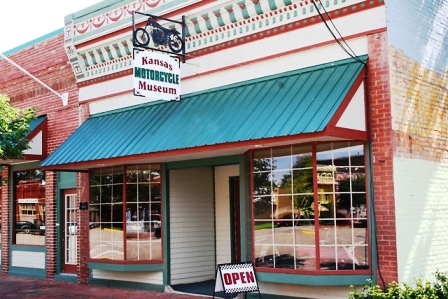 Kansas Motorcycle Museum. Photo KSF