The Kansas Museum of History is one of the 8 Wonders of Kansas because it tells the state's colorful story featuring early people, trails, settlements, Bleeding Kansas and the Civil War, trains and towns, early 20th century, and the recent past.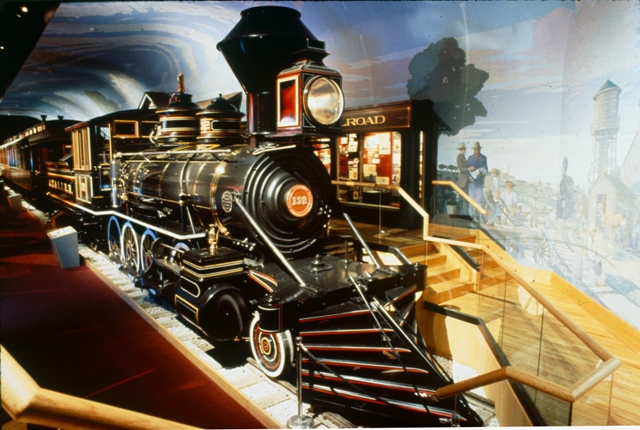 The 1880
Cyrus
K.
Holliday
steam locomotive is the centerpiece of the museum's exhibits. The Historical Society restored the
Atchison, Topeka & Santa Fe Railway locomotive to its appearance on the day in 1880 when it first left the
Baldwin
shops. Today it is once again known as No. 132. The two coaches have been restored to their one-time use as a 1920s drover's car and a 1910s division superintendent's car. In February 1983 the train was hauled by flatbed to the museum site and moved in place while the building was still under construction.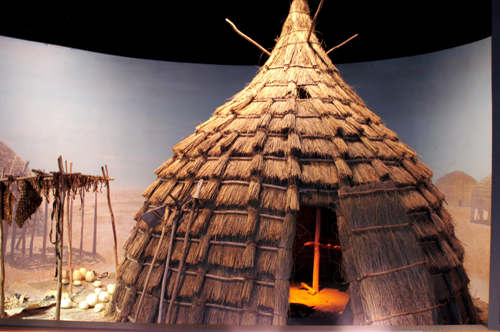 A full-sized Southern Cheyenne tipi and Wichita grass lodge accompany exhibits on native people who lived on the plains. Displays also illustrate the time period when immigrant tribes were moved into the area to live on assigned reservations.
The immigrant wagon and buffalo are at the center of the trails section, which features the Lewis and Clark Exploration, and Santa Fe and Oregon-California trails. The museum's collection of Civil War flags, including one from Quantrill's Raid, and a howitzer are featured in the Bleeding Kansas and Civil War section, which highlights the stories of John Brown, the First Kansas Colored Infantry, and the Civil War in the West.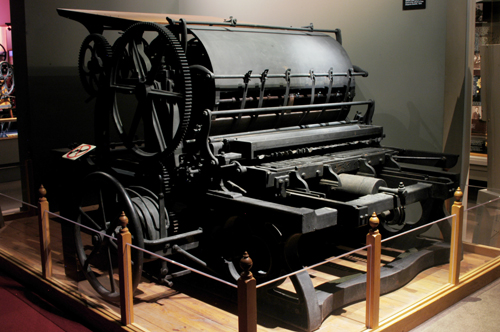 Other museum treasures are the Queen windmill, stagecoach, log cabin, 1914 Longren biplane, and printing press on which William Allen White printed his editorial, "What's the Matter with Kansas?"
The museum is located at the Kansas Historical Society's headquarters in Topeka on 81 acres at the city's northwest edge. Here visitors to the museum can shop in the Museum Store, explore the hands-on gallery, Discovery Place, conduct research on Kansas and family history at the State Archives & Library, picnic on the grounds, and hike the 2.5 mile nature trail. The Historical Society was established in 1875 by the Kansas Editors' and Publishers' Association to save present and past records. In 1879 the Historical Society was designated as "the trustee of the state" to maintain its history and antiquities.
Location: Exit 356 on I-70 in west Topeka. Turn north; enter the roundabout and follow the signs toward the west.

Hours and admission charge: Tuesday-Saturday 9 a.m.-5 p.m.; Sunday 1-5 p.m. Adults $6; students $4; KSHS, Inc., members and children five and under admitted free.
Photos courtesy Kansas Historical Society.