James Naismith was the man who invented basketball in 1891 and started the University of Kansas basketball program in 1898. 1861-1939.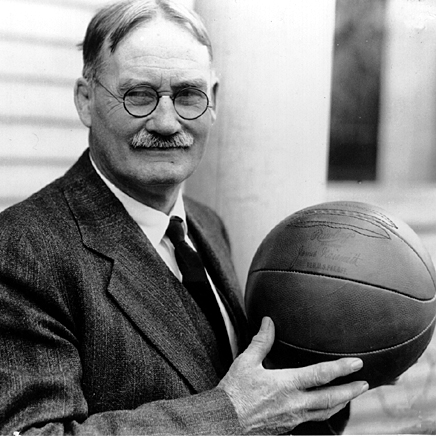 James Naismith, the inventor of basketball. Photo courtesy Kansas Athletics


Canadian-born James Naismith attended McGill University in Montreal, Quebec. After serving as McGill's Athletic Director, James Naismith moved on to work at the YMCA Training School in Springfield, Massachusetts, in 1891.
He was challenged to find a sport that could be played inside during the Massachusetts winter. He wanted something that required more skill than strength. He remembered a children's game he had played, duck-on-a-rock, and with that inspiration invented basketball.
The first game, in 1891, was played with a soccer ball and two peach baskets as goals. Two years later James Naismith replaced the peach basket with iron hoops and a hammock-style basket. Ten years later came the open-ended nets. The first-ever college basketball game was played on January 18, 1896, when the University of Iowa invited student-athletes from the new University of Chicago for an experimental game. Final score: Chicago 15, Iowa 12.
From Springfield, Naismith went to Denver where he acquired a medical degree and in 1898 he joined the Kansas University faculty at Lawrence. That year he started the University of Kansas men's basketball program, six years after writing the sport's first official rules.

The original rules did not include what is known today as the dribble, and only allowed the ball to be moved up or down the court via passes between players.

He was hired because he had the qualifications to serve the university as a physical education professor and as a chaplain. Ironically, Naismith was the only coach in the program's storied history to have a losing record (55-60). However, he coached Forrest "Phog" Allen, his successor at Kansas and the man who became known as the "Father of Basketball Coaching."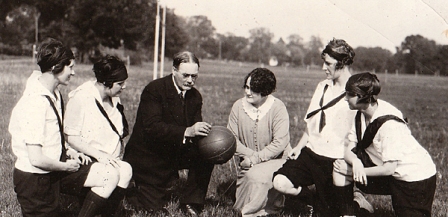 Naismith with women's basket ball team. Photo courtesy Kansas Athletics




In 1936, the first year basketball was included in Olympic competition, money was raised to send Naismith to Berlin so that he could see his game played internationally. When he returned he commented that seeing the game played by many nations was the greatest compensation he could have received for his invention. In 1963, college games were first broadcast on national TV.
Naismith remained in Lawrence until his death in 1939.
Sources: www.kshs.org/portraits/naismith_james.htm; inventors.about.com/od/inventorsalphabet/a/James_Naismith.htm; www.kansasheritage.org/people/naismith.html; en.wikipedia.org/wiki/James_Naismith.


POINTS OF INTEREST ABOUT JAMES NAISMITH IN KANSAS
LAWRENCE